Smart Technology for Window Treatments

How have Motorized Window Treatments Adapted New Technologies?
Long gone are the days when you have to be home to adjust your window treatments. Just like all of the smart devices you have in your home, you now have the ultimate convenience of motorized window treatments for your home to keep your home safe and comfortable with scheduled automation, the tap of an app, or with a voice command.
Motorized shades and blinds have adjusted to the ever-changing technologies in our world by offering convenient, safe, and reliable alternatives to cords, hard to reach windows, and easy privacy control. It is just as convenient to shop for motorized window treatments at Innuwindow as it is to use these stylish and luxurious drapes, shades, and blinds!
What do I Need to Know About Motorized Blinds?
Motorized blinds use a small motor to tilt, descend, or retract the blinds when activated at the window's frame, from a remote across the room, or from an app on your smart device. Each window's motor requires power for automation which can be provided from a battery wand, a traditional outlet plug, or hardwired into your home's electrical system.
Hard to reach windows in a two-story foyer or the skylights in your kitchen are perfect candidates for motorized window treatments. Automated blinds may be a luxury, but more importantly, they are safer than having to find the step ladder each time you want to adjust the sunlight coming into your home, or leaving the cords dangling for children or pets to get tangled in.
Control your Motorized Window Treatments with an App
Innuwindow offers motorized window treatments from several manufacturers including Hunter Douglas, Norman, Insolroll, and Horizons. Each smart system offers upgrades to a home in both convenience and style when installed by Innuwindow. Each shade, blind, or drape motor can be hardwired into your home's electrical system and connected to your home's Wi-fi system.
For Hunter Douglas products, your motorized window treatments can be controlled from the sleek "Pebble" remote or from the PowerView app on your smart device. The PowerView hub system and its easy-to-use app is also integrated with Amazon Alexa, Google Assistant, and Apple Home Kit for voice commands with your device.
The PowerView app may at first seem intimidating with all of its available customizations. However, it is a user-friendly app that provides a visual representation of each motorized window treatment from the app. Dragging the virtual shade open or closed will activate the same motion on your window. Set motorized shades and blinds to automatically open or close fully or partially at a specific time of day or with the sun.
Control your Motorized Window Treatments with an In-home Voice Assistant
Similar to the ease and convenience that you control your motorized window treatments with your smartphone or tablet, your PowerView app is also configured for voice commands through Google Assistant, Amazon Alexa, the IFTT app or Apple's HomeKit. From the voice recognition systems on your smartphone, tablet or smart speakers, your motorized shades and blinds can fully or partially open and close on your command.
Tell your living room's motorized shades and blinds to "open 20 percent" or your skylight shade to "close" and watch as each pre-programmed motorized window treatment quietly and effortlessly activates on your voice command.
What are the Security Benefits of Smart Technology for Window Treatments?
Motorized window treatments using smart home technologies can also be activated or automatically scheduled to open or close when you're not home. This gives the illusion of activity in your home and discourages would-be intruders. Motorized shades and blinds also eliminate the tangled strings and cords.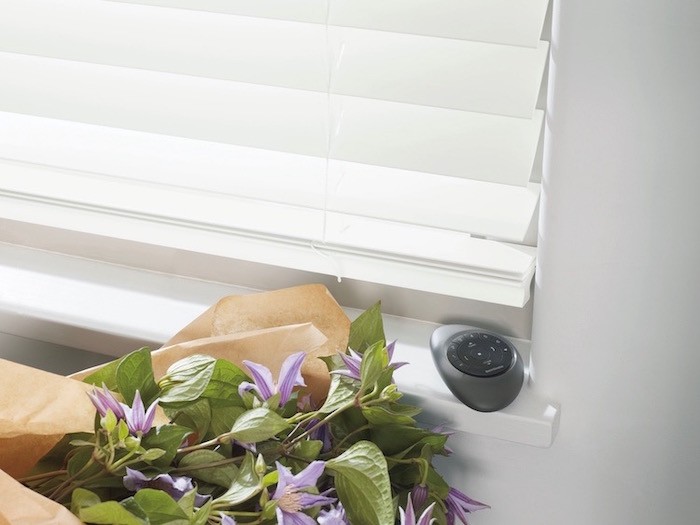 What are the Energy Benefits of Remotely Controlled Motorized Window Treatments?
Smart home window treatment automation can also help our homes be more efficient in both the hot and cold seasons. During the summer months, motorized shades for windows can be effortlessly closed with the touch of a button when the sun reaches its highest point, blocking the sun's UV rays that heat your home. This one click motion can save you hundreds of dollars on your energy bill because your home's cooling system won't need to work nearly as hard to keep the inside temperatures comfortable.
Similarly, during the winter months, use your remote to simultaneously open the windows in your home to let in the sun's warmth. The midday sun will keep your home toasty during the day and your honeycomb blinds insulate your home during the night saving your furnace from running full force 24 hours a day. Your utility bills, furnace, and air conditioner will thank you each time you adjust your motorized window treatments.
Innuwindow has Motorized Shades and Blinds with Smart Technology for your Home!
Motorized shades and blinds are a convenient and energy saving upgrade for your home that integrates with the most useful smart technologies. Innuwindow is a highly rated and trusted installer for motorized window treatments from Hunter Douglas, Horizons, Insolroll, and Norman USA, that come in a variety of materials, styles, and colors for each motorized option. Contact Innuwindow today or call 508.650.9922 for your free consultation and elevate your home's technology and decor today!