How To Dress Up Any Window Shape With The Perfect Window Treatments
Choosing the perfect window treatments that suit your style and decor is challenging. Today's window treatments include draperies, shutters, shades, and blinds, all available in a variety of fabrics, colors, and textures. Window treatments should match your interior design, while providing light filtering and energy efficiency options. Deciding on window treatments becomes even more difficult when unique window shapes are involved.
What Is the Best Window Treatment for French Doors?
When deciding on a window treatment for French doors, consider the amount of light you'd like to allow into the room.
Draperies come in many types of fabrics, from sheer to heavy, allowing you to choose the optimal light filtering fabric for your room.

Natural light may be filtered with blinds or roman shades, and for complete privacy, consider blackout

roller shades

or honeycomb shades. 
How Do You Hang Curtains or Roman Shades on French Doors?
When hanging draperies on French doors, they should be attached to a single rod across the opening of both doors. Draperies shouldn't interfere with door usage, yet the panels need to be wide enough to cover the doors when closed. A rod may be extended beyond the window to allow extra light in when draperies are open. If there is molding above the doors, you will be unable to use a curtain rod. Roman shades are ideal in this situation. They should be placed on each door, allowing the doors to open and close easily.  The shade must be fit properly to cover the ovening but clear any door handles.
What Is the Best Window Treatment for a Bay Window?
Bay windows are a focal point of a room, and window treatments should bring attention to them.
Draperies allow the entire window to be visible; yet, they can be drawn to filter sunlight. 

Valances

highlight bay windows, showcasing their beauty. However, because they do not cover the entire window, privacy is limited. 

Roman shades, shutters, and

honeycomb

shades provide light and privacy control for bay windows, while accenting

r

oom decor.

Draperies and roman shades may be layered to add a more dramatic effect to a room.
How Do You Put Curtains or Blinds in a Bay Window?
Draperies may be placed on the rod to cover the window only or extend beyond the window. If a window seat is present, blinds may work better. Blinds, and shades, are easier to install in bay windows, as they are fitted specifically for each window.
What Is the Best Window Treatment for Casement Windows?
Curtains and roman shades are both good options when choosing window treatments for casement windows. Roman shades are versatile, yet functional window treatments; however, they block a portion of the window when open. To allow more light into the room, draperies may be a better choice. Drapery panels fit well on casement windows, and are suitable for all types of decor, formal or casual. Because most casement windows have cranks shade placement and sizing is crucial and screen access may be limited.
Can You Put Shutters on a Casement Window?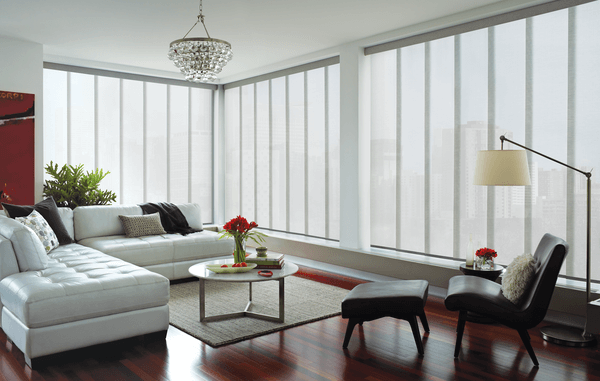 Shutters may be installed on a casement window, but they will need to be custom-built to match the direction your window works. Custom interior shutters shouldn't block the opening handle or crank. When you open a casement window, partially open the shutters too, adjusting sunlight and airflow. Custom interior shutters add a traditional look to any room, while offering light control and energy efficiency.
What Can You Use to Cover a Window in a Door?
Many doors come with windows, such as French doors and Sliding doors. The windows may be covered with drapes, roman shades, cellular shades, or custom interior shutters.
Roman shades and cellular shades help to regulate temperature year-round and can be modified to fit a variety of window shapes.

Drapery panels and rods that extend beyond your windows make the windows appear wider, permitting more light to enter a room. 
What Is the Best Window Treatment for Rounded Windows?
Choosing window treatments for rounded windows requires special consideration. Once again, it's important to think about the amount of light filtering and privacy that you desire.
Draperies, available in sheer to heavy materials, filter light while adding a soft touch to a room.

Valances only cover the top of the window, but allow more light in. 

Custom cellular shades, honeycomb

shades

,

or shutters, fitted within the window frame, create a seamless and clean look.  Our favorite choice is shutters.
How Do You Hang Curtains on a Rounded Window?
There are several ways to hang curtains on a rounded window.
Mount the curtain rod at the ceiling and hang curtains across the window, or beyond the window to allow more sunlight in.

Place the rod halfway down the window for privacy, leaving the top arch exposed for light control. 

Consider flexible or curved rods that fit the window perfectly, with rings that lock in place.
Find the Perfect Window Treatments at Innuwindow
Innuwindow offers a wide variety of custom and readymade window treatments, including classic looks and contemporary trends. Our professional design team will assist you in finding the perfect window treatment for you. Whether you require typical or custom window treatments, there are many styles, colors, and fabrics to choose from. Contact our designers today for a consultation. We'll take accurate measurements, resulting in perfect window treatments for your home.